Community literacy involves establishing a process of shared problem-solving that unites communities around the vision of 100 percent literacy with 100 percent community engagement. The implementation of community literacy is both bottom up and top down. It can change the way literacy is viewed at all levels of service delivery, from the local level to the national.
Information regarding Coalition 101 is part what was presented by Margaret Doughty at the OKC Community Forum on June 10, 2010. We thank Literacy Powerline for the use of the information and graphics.
Community Collaboration
Community Literacy Includes:
Health literacy
Workforce Literacy
Computer literacy
Family Literacy
Early Childhood Literacy
English for Speakers of Other Languages (ESOL)
Literacy is a tool and does not belong in any one social issue area but in all! Literacy must become an integrated part of the community's development strategy.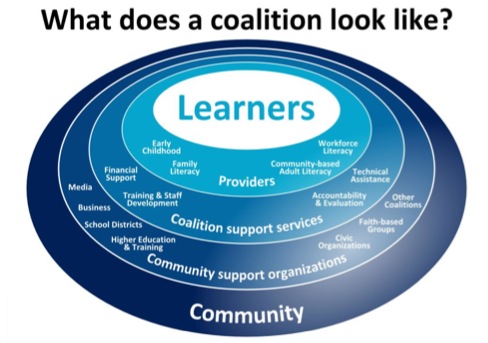 Who Belongs?
Community based organizations
Workforce investment board
Faith-based organizations
Child care providers
Civic organizations
Correctional institutions
State adult education partners
Adult learners
The business community
Local media
School Districts
Community literacy providers
Institutes of higher education
City education department
Health care providers
Local government
Family literacy providers
Vocational training organizations
Other coalitions
Chambers of Commerce
Join the Coalition as we work together to meet the literacy needs of our community to:
Expand access to literacy services throughout the community
Provide coordination to assure the most efficient and effective services
Spread best practice research and discussion throughout the provider community
Engage the leadership of the community at its highest levels to build lasting solutions
Keep literacy visible as a top priority in the community
Click here to join our Coalition
What's in it for me?
Our children to be prepared for and succeed in school
Our people to become employed, self-sufficient and climb a career ladder
Our people to make informed decisions about civic, environmental and health issues
Our people to navigate in this new information and technological era
Our communities to combat the forces of poverty and crime
Our employers to grow their businesses
Why a Coalition?
The significance of our low literacy problem is daunting. The issue must be addressed in a collaborative manner. Literacy and economic development go hand in hand.
Employers now find it more cost effective to relocate operations if they cannot find the skilled workers to meet their needs in the local area. A literacy system that begins in early childhood should scale up services for all members of the community and create a strong economic foundation for the region.
We educate our children because they will become the workers, citizens, parents and communities of tomorrow. But the educational needs of undereducated adults are just as real, and they are immediate. Adults at any time are the workers, citizens, tax-payers, parents, and communities of Today!
Return on Investment
By increasing the high school graduation rates each graduate will earn on average $267,000 more than a non-graduate over a lifespan
By reducing the number of people receiving welfare support there is a lifetime savings of $127,000 per capita in the cost of welfare support
By increasing vocational information and skills training more people will embark on a career ladder rather than get stuck in a dead end low paying job
By increasing literacy levels there will be a reduction in the $73 billion nationally spent each year for unnecessary health care expenses that are attributable to poor literacy
By partnering on education and training for inmates and re-entry programs crime rates will decrease and fewer tax dollars will be needed for the criminal justice system
By developing effective pipelines a culture of literacy will be built and high expectations, high quality programs and high quality results will make a literate community
Work must occur across the age span of lifelong learning
Activities must cross social issue initiatives
Literacy must be at the heart of all levels of community activity