¿Habla usted español? ¿Quiere usted aprender a hablar el inglés?
Estas organizaciones ayudan a aprender.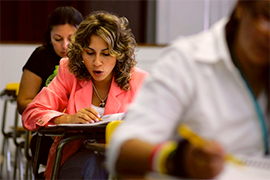 Community Literacy Centers
http://www.communityliteracy.com/
5131 N. Classen Circle, Suite 204
Oklahoma City, OK 73118
(405) 524-7323
Contact http://www.communityliteracy.com/contact-us/
Oklahoma City Community College
Free ESL Classes
http://www.occc.edu/coe/esl.html
405-686-6222
Rose State College
Free ESL Classes
http://www.rose.edu/esl
6420 S.E. 15th St.
Midwest City, OK 73110
Tony Castillo
405-733-7498
Opportunities Industrialization Center of Oklahoma County (OIC)
http://www.oicofoklahomacounty.okpls.org/programs.shtml
3033 North Walnut Avenue, Building East
Oklahoma City, OK 73105
405-235-2651
Oklahoma Christian University
Lunches/ESL services for hotel and maintenance staff
405-425-5345

Baptist General Convention of Oklahoma
Thelma Burchfiel
405-722-9712

First Baptist Church of Oklahoma City
ESL Classes
https://www.fbcokc.org/esl.asp
1201 N. Robinson
Oklahoma City, OK 73103
405-317-3792
Consejos Para Leer Con Los Niños
http://www.odl.state.ok.us/literacy/publications/other/tips-spanish.pdf
Edmond Library ESL classes are on Mondays and Wednesdays. The beginner class is from 6 – 8:30 p.m. and the intermediate class is from 1 – 3:30 p.m. If someone is interested in enrolling they can contact Oklahoma City Community College at 682-7873.
Warr Acres Library: ESL information
February dates are: 1, 3, 8, 10, 15, 17, 22, 24, 29. Intermediate ESL meets at Warr Acres Library on Mondays and Wednesdays from 6:00 PM – 8:30 PM. Info provided by Karen Litteral 405- 721-2616
Check out these websites for fun and helpful activities:
Randall's ESL Cyber Listening Lab
http://www.esl-lab.com
Colorin Colorado
http://www.colorincolorado.org
Dave's ESL Cafe
http://eslcafe.com
To Learn English
http://www.tolearnenglish.com